With over 14 miles of easy to very rugged trails, hiking is one of the most popular activities at Turkey Run State Park. (Sorry, bicycles must remain on paved public roads.)
Turkey Run Trails are Legendary
Deep canyons nestled in the shadows of sandstone cliffs and peaceful hemlock groves harbor some of the most ruggedly beautiful hiking trails in the state. Trails are open from dawn to dusk.
To get to many hiking trails you need to cross the suspension bridge over Sugar Creek. Be warned – it is 70 steps down to the suspension bridge. Upon crossing the bridge you will be in the Rocky Hollow-Falls Canyon Nature Preserve, containing deep sandstone canyons and one of the last remnants of the magnificent forest that originally covered most of Indiana. Please protect and enjoy this priceless heritage.
We have assembled a collection of Turkey Run Trail Videos Here.
Hiking trails are open from dawn to dusk. All hikers must be off the trails before dusk.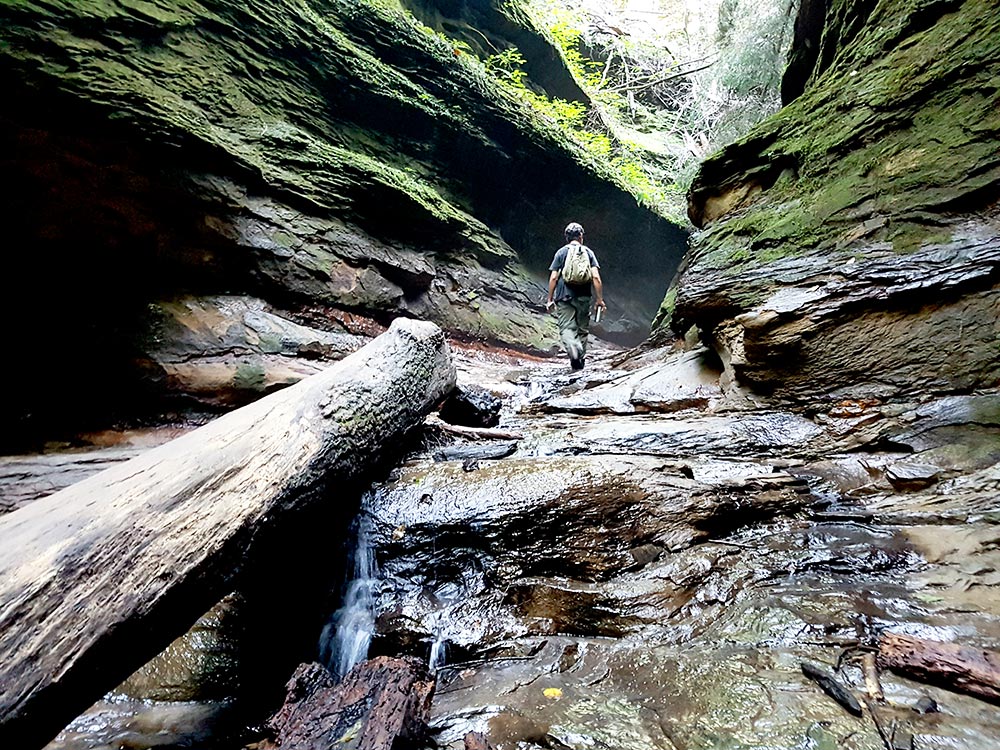 The Turkey Run hiking trail numbers on the following list correspond to the trail numbers on the park map. Click on a trail number for pictures of and more information about the trail and its features:
Warning: Many trails, except Trail 11, have portions that use ravine streambeds as trail surface, and sections of those trails can become slick and the trail tread uneven. Parts of these trails may be impassible during high water and should be considered closed during such times. Use alternate trails during high water.
5 Mile Challenge at Turkey Run State Park
This hike has you start at the Nature Center, cross the Suspension Bridge into Rocky Hollow-Falls Canyon Nature Preserve, and take the perimeter trails in one big loop.  Hike clockwise and you'll do the hardest sections first and go down the 140 steps.  You'll also go through three canyons, climb a ladder, and see the historic Lusk Home.  Allow 2-3 hours.  Do this all in one hike, taking pictures at designated spots, and you can earn a special sticker.  Click here for a map and more info on the 5 Mile Challenge.
The big tree trail is a moderate to rugged, 3-mile trail that leads to the historic Narrows Covered Bridge. It takes you by Goose Rock and the Lusk Earth Fill. It ends at Box Canyon on Trail 2. You'll also find fine sycamores and several huge black walnut trees along this trail.
This rugged 1-mile trail follows under cliff edges, taking you through Box Canyon and Gypsy Gulch before intersecting with Trail 1 near the Lusk Earth Fill. It's definitely a trail for the more adventurous. Be careful!
TRAIL 3 – PARTIAL CLOSURE: Due to damage caused by a large fallen tree, the upper section of Trail 3 between the junctions of Trails 5 and 10 is closed until a staircase can be replaced.
This is a very rugged 1.7-mile trail that offers some unusual hiking opportunities. Following the cliffs along Sugar Creek, Trail 3 passes by the Ice Box. It then turns north and follows between the steep walls of Bear Hollow before returning to the ridgetop by a series of ladders. Be very careful!
Trail 3 later takes you to the Punch Bowl, a pothole that was scoured out by glacial erratics caught in the swirling backwash. The trail then follows between the steep walls of Rocky Hollow, along a creek, and past Wedge Rock on the way back to the Suspension Bridge.
Warning: Ladders are part of Trail 3. Ladders can be hazardous for visitors with some medical conditions or disabilities. Hikers with small children and pets should use alternate trails.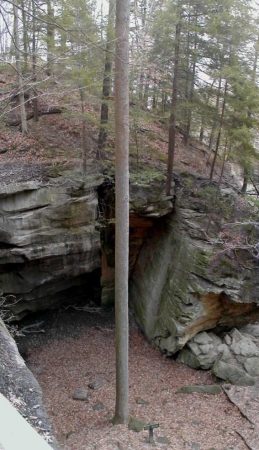 This moderate to rugged 2-mile trail passes the old Coal Mine and follows Sugar Creek upstream to the Narrows Covered Bridge, then up to the Lusk Home. It returns along a stream and joins Trail 3 at the Punch Bowl. Trail 3 then goes through Rocky Hollow back to the Suspension Bridge.
The Punch Bowl is an example of a pothole that was scoured out by glacial erratics caught in swirling backwash. (Glacial erratics are pieces of bedrock from Canada carried here by the glaciers.)
This moderate to rugged 0.5-mile trail is a short hike where the turkeys once roosted on the ledges. It forms a loop, starting at the Turkey Run Inn, going around Lieber Cabin, past Sunset Point, through Turkey Run Hollow, and around Overlook Cabin and the Inn Cabins, ending at the road to the Inn.
Starting at the campground, this is a moderate 0.7-mile self-guiding nature trail forming a loop through virgin wood and hemlock trees. It offers nice hilltop views of Sugar Creek.
At one point the trail descends into a canyon leading to where the Turkey Run stream joins with Sugar Creek. Here you can cross a footbridge and join up with Trail 6 near Lieber Cabin and the Turkey Run Inn.
This moderate 1.5-mile loop trail offers a peaceful hike along a small creek. It joins with Trail 4 for a couple of stretches, one of which is at the old coal mine.
Be careful! This is a very rugged 1-mile trail that is also the best one on which to see virgin wood. It splits off of Trail 5 and takes you through Falls Canyon and Boulder Canyon.
Erratics are pieces of bedrock from Canada that were carried here by the glaciers. Some of the larger erratics (boulders) can still be seen in Boulder Canyon on Trail 9, and smaller ones (pebbles) can be found in Sugar Creek.
Starting at the Suspension Bridge and heading up through Crevice Rock, this moderate 1.4-mile trail offers a fine, scenic view on its way to the "Camel's Back" overlook. Along the way you'll see many unusual formations due to erosion. On the way back the trail joins up with Trail 3 through Rocky Hollow and back to the Suspension Bridge.