Enjoy shaded or sunny Electric Campsites for RV or tent camping. Youth groups can take advantage of the Youth Tent Camp. The Camp Store can help with any last minute needs.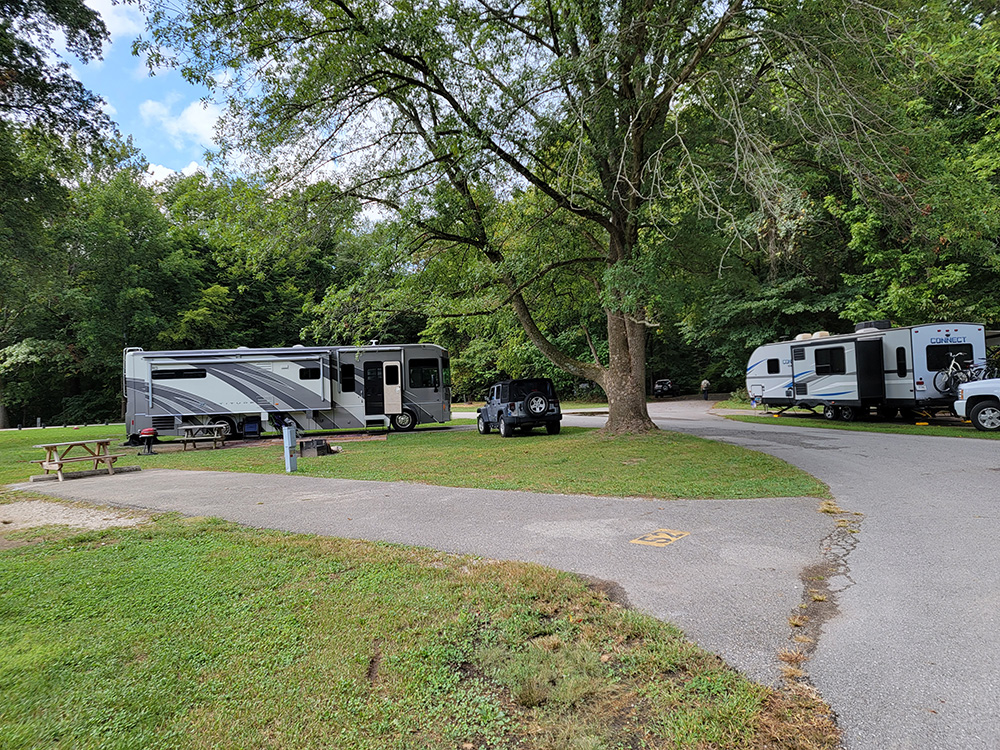 Turkey Run Camping – Electric Sites
The Turkey Run State Park Campground features 213 electric (Class A) campsites, 6 of which are wheelchair accessible. These modern sites include:
electrical hookup
picnic table
fire ring
parking spur
drinking water supply in area
modern restrooms/showers
Youth Tent Camp
Turkey Run camping includes two Youth Tent Camps for:
groups of 10 or more with campers under 21 years and their adult leaders
not-for-profit groups only (proof of not-for-profit status must be provided upon arrival)
tent camping only
Youth Tent Camp sites include: 
fire rings
picnic tables
pit toilets (no showers or restrooms)
drinking water supply near campground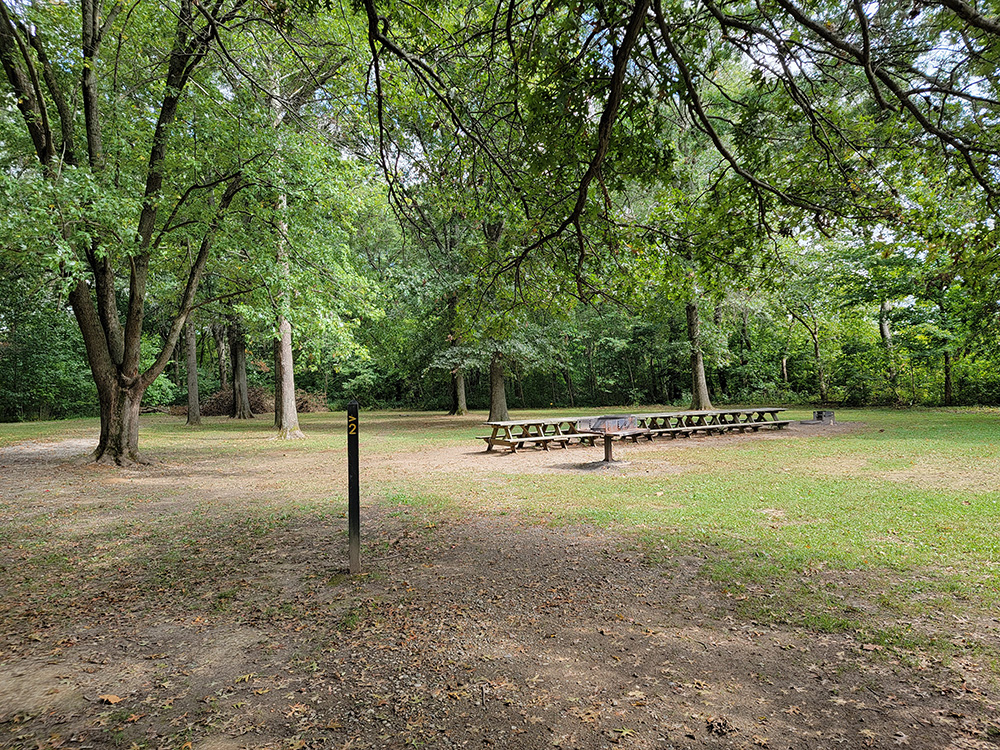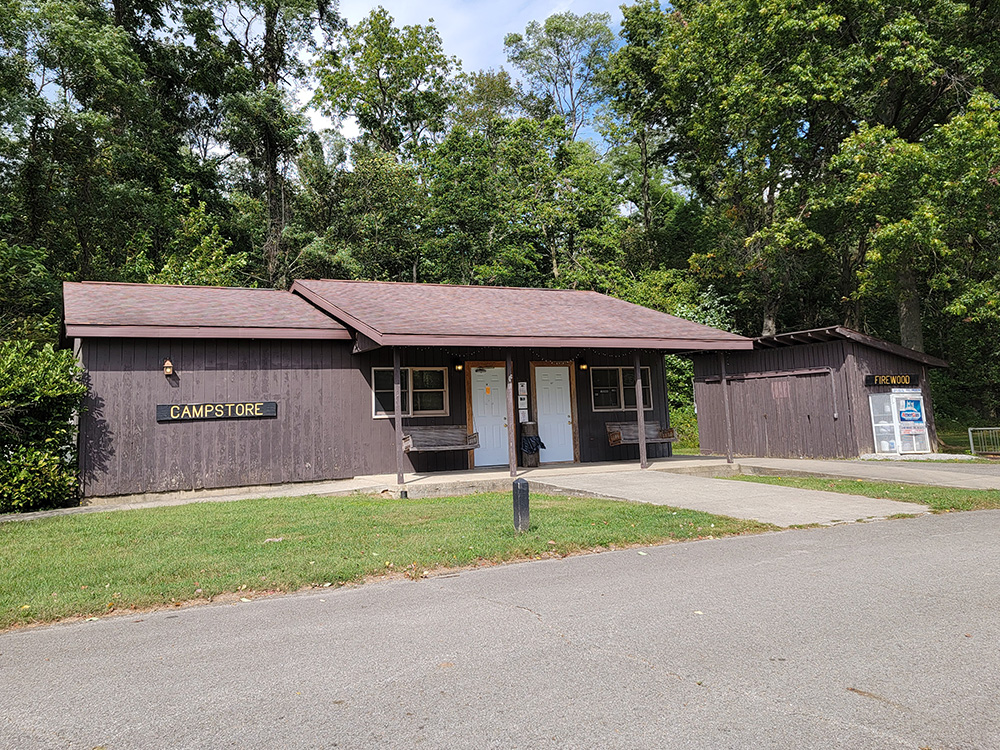 Camp Store
Turkey Run operates a camp store by the campground parking lot to supply campers with food, firewood, and other camping necessities.
From the last weekend of April through Memorial Day weekend the camp store is open Friday evenings and all day Saturday.
From Memorial Day weekend through the first weekend of November the camp store is open:
Monday – Thursday 10 am – 8:30 pm
Friday & Saturday 10 am – 9 pm
closed Sunday
Following are the standard camping rates from late April through early November. For rates outside of these dates, call Turkey Run State Park directly at (765) 597-2635. Rate information is also available online when you make online reservations.
All Turkey Run State Park guests, including campers, will pay a one-time entrance fee upon arrival.
NOTE: Taxes are not included in the listed rates. Rates are subject to change throughout the year.
Electric (Class A) Campsites
$23 Sunday-Wednesday
$30 Thursday-Saturday
$33 Holiday Weekends
$20 minimum anytime
(10 people at $2 each,
additional people are $2 each)
Winter Camping: When the temperatures begin to fall in November, the campgrounds switch to winter rates and services. Water is available, but only the modern comfort station (showers/restrooms) in the west loop is open all winter. Regular rates and services resume in mid April. 
Reservations for the Turkey Run State Park campgrounds can be made up to 6 months in advance (beginning at 12 noon on that day).
Call 1-866-6CAMP-IN (1-866-622-6746) 
(Call Center is open Monday-Friday 12pm to 8pm EST, and Saturday-Sunday 12pm to 5pm EST.)
OR
NOTE: A non-refundable transaction fee of $5 is charged for each new advance reservation made online or by phone.
Please do your part to make sure everyone has a safe and enjoyable camping experience.
Pets
Many family pets do not seem to enjoy the camping experience nearly as much as their humans. The unfamiliarity and confusion of a busy campground and being constantly on a leash seem to upset some animals. Excessive noise and not cleaning up after pets leads to many complaints from other campers. Campers are responsible for their pets at all times. Do not leave them unattended. Pets must be on a leash 6 feet or less, in length.
Tables
Each site is outfitted with one picnic table. Borrowing tables from other sites is not allowed and creates discord when they must be retrieved for the site from which they were taken.
Vehicles
Reducing congestion and visitor safety are the reasons for the "one mode of transportation per site" rule. Additional vehicles must be parked in designated campground parking lots.
Number of people/tents per site
Six people is the maximum number allowed at a campsite. Each site may have two tents or one camper and one small tent.
Alcohol
Alcohol is strictly forbidden in the youth camps. At other properties, both daily visitors and campers are asked to be responsible when drinking alcohol. Possession of alcohol by persons under the age of 21 is against the law in Indiana, and this will be enforced.
Quiet Hours
Quiet hours are from 11pm until 7am. At night, voices carry so moderation is essential. Generators or other similar equipment which produces noise may only be in operation from 7am until 11pm.
Check-out Time
Check-out time is 2pm Monday through Saturday and 5pm on Sunday and designated summer holidays. If you plan to renew your registration, please do so by 10am.
Nails and Wires
Nails and wires for suspending lanterns and patio lights can cause serious damage to trees. Burn damage permanently scars or kills trees.
Fires and Firewood
Fires may be built only in the fire rings provided. Collecting firewood in state parks is prohibited. Firewood is for sale at the park concession or campground store.
Visitors to your site
Day visitors are welcome. They must park in the campground parking lot and may walk to your campsite. Campground hours are 7am until 11pm each day.
Age of Campers
At least one person at the campsite must be 18 years old. The responsible party registering for the campsite shall remain at the site for the entire stay.
Length of stay
Maximum length of stay is 14 consecutive nights. A minimum of Friday and Saturday, or Saturday and Sunday is required for weekend reservations.
Setup of campsite
May begin after check out time on the first day, and the site must be clear by check out on the last day, except Sunday or Monday of a holiday weekend, when you may stay until 5pm. Campgrounds are closed at 11pm, and no set-up of campsites may occur after midnight.
Renewing campsites
Campers are requested to renew sites by 10am.
TOOLS FOR PICKING A CAMPSITE
View printable PDFs of the campground maps:
See Turkey Run Campground on Google Streetview
The link above will take you to google streetview.  THEN YOU NEED TO CLICK THE YELLOW PEG MAN IN THE LOWER RIGHT HAND CORNER TO SEE THE Turkey Run State Park campsites on Google Streetview.
The link above will take you to a page where you can view the campground map alongside the streetview of what the spots look like
Watch this video tour of the Turkey Run State Park Campground
The creator drives around and shows you every single campsite one by one.
Watch this video review of Turkey Run State Park Campground